How To Create an Effective Street Banner Design?
From our dedicated sales and project managers, to the talented graphic design engineers, to the service specialists, Main Street Banner will be with you every step of the way.
Can the Flag Factory Help With My Graphic Design?
Our graphics team will guide you through the process of taking your ideas, words, logos, theme, colors and creating a graphic for your banner.
Designing the Perfect Banner:
Know Your Goals
To design the perfect banner, you need to start by making sure you have a clear understanding of your goals. Here are a few possible goals to consider:
Increase seasonal, holiday, community awareness
Rebrand or change the public perception of your brand, cityhood message
Highlight a new product, get-out-the-vote, new housing, grand opening
Call attention to a sale, promotion or planned development
Promote upcoming events, graduations, festivals, parades
Create a sense of community and neighborhood
Raise awareness and visibility of social, scholastic, or non-profit organizations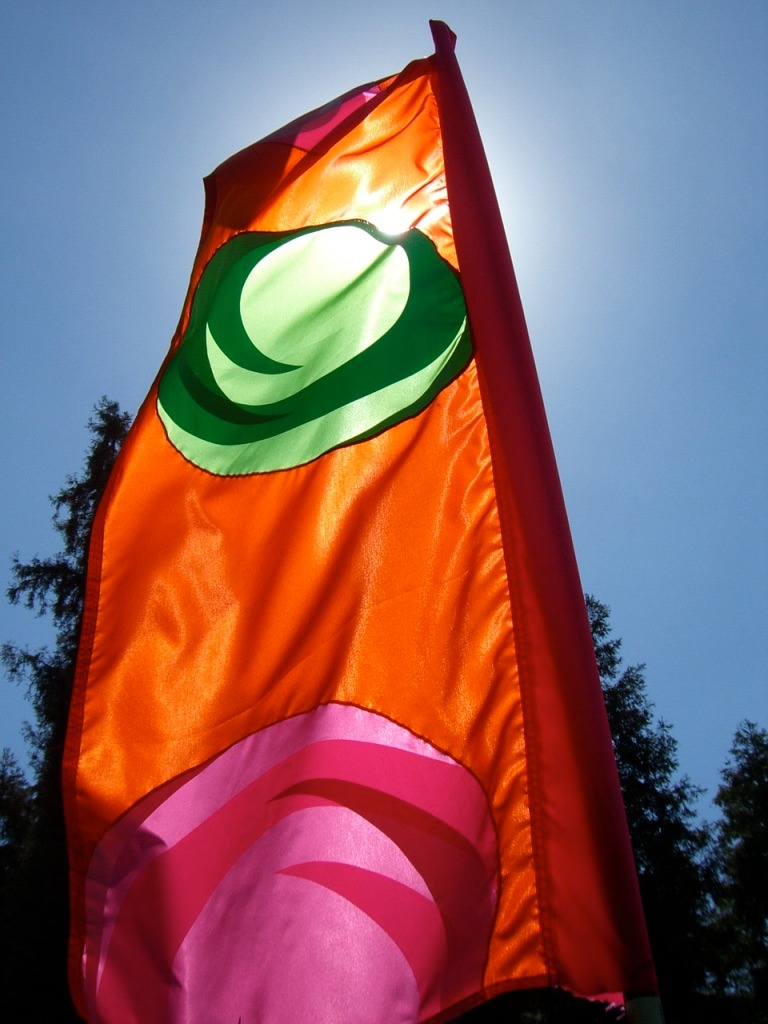 Colorful Seasonal Banners
How Do I Make the Banner Pop From Its Surroundings?
Color, texture, light, message are key for rolling into a simple, strong graphic. The temptation is to include more, say more. However, the best street banners are the ones that are simple, bold, and direct.
Consider a banner design that contrasts from its surroundings to be more noticeable. People will notice – and remember!
Choose Colors Wisely
Whether they're photographs or graphic art, eye-catching images offer an excellent way of enhancing your banner's design. However, one of the most common wide-format printing mistakes is to use low-quality images that look blurry or grainy on the finished product. When you're looking at a picture on your computer screen, it can be difficult to tell what that item will actually look like when it's blown up to fit a banner that's several feet across.
Tips For Successful Street Banners:
Make text readable on street banners at a distance for drivers
Keep text concise
Thicker, bolder fonts over thin
It's all in a 1 to 5 second glance
Keep a focal point
Create contrast
Better to err on the large side
Use appropriate materials to your location & weather
Use quality fabrics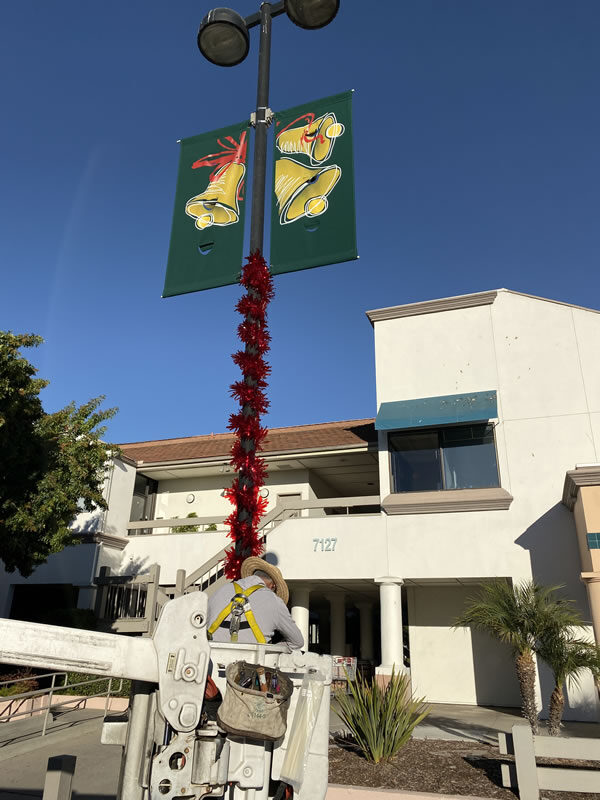 Christmas Banner Decoration
What Is Needed for My Project Banner Printing?
If  you have a professional graphics person creating your brand  and banner  documents, GREAT!
If you don't have that  advantage, our experienced graphics and print team will make suggestions and steer you toward the best materials for your application.
We use high-quality materials from leading substrate fabricators: vinyls, acrylic, Sunbrella®, poly-twill, cotton bunting, nylon flag stock, mesh, coated packcloth, etc. 
Main Street Banner custom flag and banner makers will present you with a finished product that lives up to your expectations and catches the attention of your community.
Should I Go With Stock or Custom Banners?
Main Street Banner keeps a depository of ideas and royalty-free images as tools for springboarding your project into full development.
We can spend 20 minutes coming up with 6 ideas from "stock." OR, we can create a ground-up approach that requires meetings and perhaps weeks of back-&-forth development to create personalized custom street banners.
Think in terms of "what is unique?" What haven't you seen before, or recently?
Vinyl banners are the most economical, true, but perhaps consider mixed media: mesh, Sunbrella® acrylic, nylon. The sky's the limit – pardon the pun.
Great Banners Need Great Display Hardware
Use strong bracket hardware, such as our patented Banner-Saver® Flex-Arm, Spring-Loaded systems.
Consider employing our specialized bird-deterrent rods with the installation. Or, ponder adding decorative scroll-holders.